This page should help troubleshoot most GPS issues for Garmin, Coros & Strava. If you have a GPS device that is not listed, it is recommended that you use Strava to import your GPS data into V.O2.
Quick Links:
Syncing Data to V.O2 from your device:
API Changes: How it impacts V.O2
V.O2 partners with various GPS services and work hard to keep up with changes an external service makes, however, APIs often change. Disconnecting your service and reconnecting can resolve most connection issues. To do this go to "Connect Apps", disconnect your GPS device and then reconnect. It can take up to two hours for your data to sync.
SSO Sign-in – Ensure your accounts are correct
Many software companies make it extremely easy to create a new account (V.O2 included). One of the most common issues we resolve is that the GPS account is connected to a duplicate account that doesn't contain any training. Many of our users have multiple Garmin, Strava, Coros and even V.O2 accounts. It's important to ensure that you're connected to the correct GPS and V.O2 account.
Bluetooth: Sync your watch with the device app
While you may be expecting your data to show up in V.O2, the way for it to show is for your data to sync with your GPS manufacturer's app. Whether it's Strava, Garmin or Coros – our sync occurs in the background once the data has synced with the GPS' server.
Ensure the latest connection: Disconnect and reconnect your account
If you're having trouble syncing your GPS, disconnecting and reconnecting your account from v.o2 . You can select your appropriate GPS device above to identify how to disconnect and reconnect your account. 
View your connection using Garmin Connect
You have the ability to ensure that you have an active connection in your Garmin account by going here: https://connect.garmin.com/modern/settings/accountInformation
Once there, look down and ensure that VDOT O2 Workouts is listed as shown below: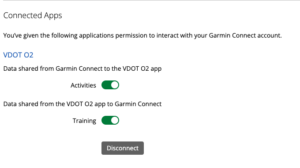 If you do not see VDOT O2 listed in this way, it is possible that your device is not connected properly and you should refer to the Garmin Connect set-up page. 
Downloading workouts to your device for Workout syncing:
Both Coros and Garmin watches have the capability to sync your V.O2 workouts.
Garmin:
There are two ways to sync your V.O2 workouts. You may refer to this page to understand how to set up the Garmin Calendar Sync. 
The V.O2 Garmin IQ app works on some watches, though it provides the same features as the Garmin Calendar sync above so if your watch is not compatible with this, you may simply use the Garmin calendar app.
Coros:
To sync your Coros running activities, refer to this page.
Manually uploading a GPS activity to your calendar:
If you would like to upload a GPS file, you can upload directly to an activity or you can upload to the calendar and V.O2 will use the activity date to identify which day the GPS data will be uploaded. To do this, you may log into vdoto2.com. If you do not see your training when you log in, it is likely that you have logged into the incorrect account. 
To upload an activity to the calendar as a GPS imported activity you can use either the three dots in the top right of an activity or directly onto the calendar as shown here: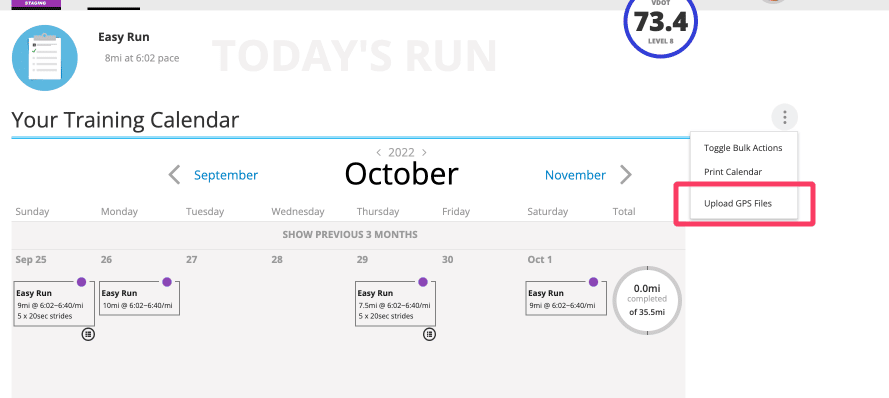 You may also open an activity and upload a GPS file to any activity directly into an activity that already exists, you may upload it using the activity window: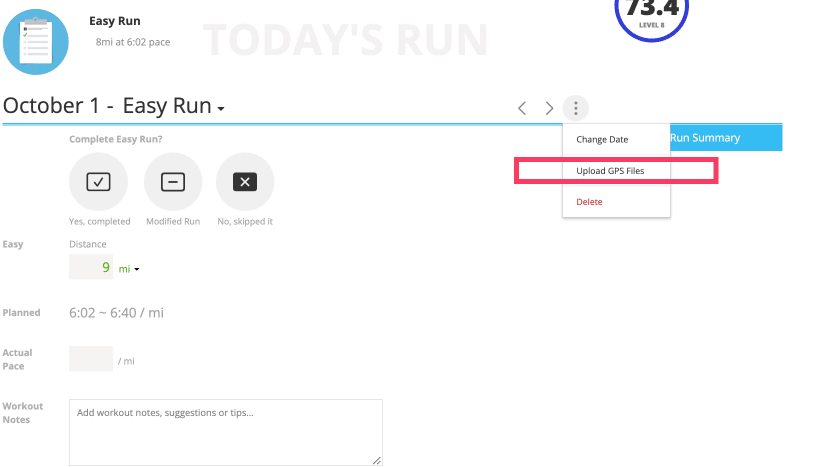 FAQs
Q:I did an indoor treadmill run but my watch was not tracking accurately. Do I need to make any changes when running on a treadmill instead of outside?
In general, GPS does not work very well indoors. Oftentimes your watch will make an attempt to show you a pace or distance. Watches will typically use an accelerometer to provide a pace but you may not want to rely on this.  It would be ideal to focus on the data coming from your treadmill instead of your watch.  While it might take some time, you might want to enter into the "Logged Reps" field your actual splits that you witnessed on the treadmill. One thing you can use your watch for is to utilize the split button manually just to keep track of your progress. 
If any GPS related question is not found on this page, please send us an email at [email protected]